Precision Linear Motion Product Guide by Del-Tron
Product Announcement from Del-Tron Precision, Inc.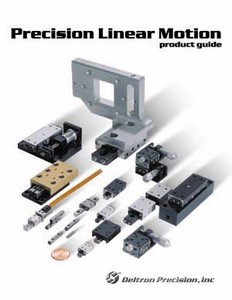 Del-Tron has introduced a new version of its precision linear motion product guide. The 90-page guide is an outstanding technical resource for design engineers specifying linear bearing components. The technical section of the catalog includes detailed technical information that will provide invaluable assistance in creating mechanical designs for many types of industrial equipment, instrumentation and OEM products.
The 2007 version includes many new types and sizes that have been added to the product line in the past year. For example, the straight line design in the popular ball slide line is now duplicated in the crossed roller type giving users 6 to 8 times greater load-carrying capacity in the same envelope. This new crossed roller line is especially useful for applications with overhanging loads.
Lead screw driven Posi-Drive Stages are now available in two smaller versions, the LS1 and LS2 sizes. These compact stages are available in one-, two- or three-axis configurations and with ball or crossed roller rolling elements. Sized for use with Nema 14 and 17 motors, these stages will fit into the smallest applications requiring only 1.380" width and 1.250" height and offer travels up to 4".
Del-Tron's heavy-duty aluminum crossed roller tables utilizing the v-grooved type crossed roller rail set guides has been increased by 20 sizes adding both shorter and longer travels. In addition an all new series of inch-sized crossed roller tables using the same rail set technology has been added offering the designer the convenience of tables with widths of 2", 3", and 4" respectively. This provides easy interchangeability with those of other manufacturers.
To receive a copy of this outstanding technical resource, or for more information, contact Del-Tron Precision, Inc.
Del-Tron Precision, Inc. was founded in order to serve the needs of automated equipment manufacturers for innovative, high quality and reasonably priced anti-friction linear bearings. For over 30 years, we've manufactured linear motion products we've categorized into nine distinct family groups. Industry terms for our products include: linear slides, ball slides, linear ball slides, linear bearings, crossed roller slides, cross roller bearings, positioning stages, linear positioners, XY stages, micrometer slides, roller slides, linear actuators, ball screw actuators, belt drives, belt drive systems, lead screw actuators, crossed roller bearings, linear motion slides, slide guides, and crossed roller tables, among others.
---