Product Announcement from Interface, Inc. - AZ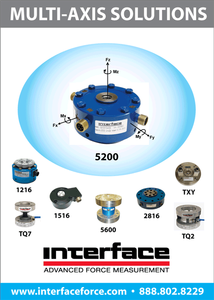 Multi Axis Load Cells are designed to measure forces and moments from different directions, simultaneously, all within the design of a single load cell transducer. Interface Multi-Axis Load Cells do this with very little, if any noise and crosstalk between signal axes. We understand the application needs of our users and have created several product lines that offer high-accuracy
simultaneous measurements of force, torque, and moments for the automotive, aerospace, medical, and commercial industries. All Interface multi axis products provide a mV/V output.

The 1216, 1516, and 2816 are flange-mounted and provide force in the axial direction and moment sensing about this centerline axis. The 2816 provides an additional two moment axis, which can be used to help evaluate forces and moments in such applications as engine thrust analysis and experimentation.

The TXY series provides force sensing in the X and Y axis, which finds great use in aerospace, automotive, and tire testing applications.

Our 5200 Multi-Axis Load Cell is part of the LowProfile family of products offered by Interface that utilizes shear loading to sense forces and moments in the Z-axis, and X-Y axis, respectively. This high-accuracy outputs have extremely low crosstalk without additional complicating electronics and is built to last for years. Three output connectors connect to their respective resistive strain gage bridges, each providing 2mV/V output signals.

The TQ2 and TQ7 Axial Torsion force transducers provide accurate force sensing in the Zaxis, while also providing torque sensing about the Z-axis. Applications where the TQ2 and TQ7 products are used include material testing where an applied force and twist, together, need to be measured. Other applications are measuring the force needed to drill a hole, and sensing for
reaction torque.

The 5600 Axial Torsion force transducer provides all of the characteristics of the other Axial Torsion force transducers, measuring FZ and MZ, but in much higher capacities - up to 180,000lbf x 300,000 lb-in.

All of the Multi Axis family-of-products feature high-stiffness so that little to near-zero deflection is observed.
You have successfully added from to your part list.
---