CNC Knife Systems
Product Announcement from AXYZ International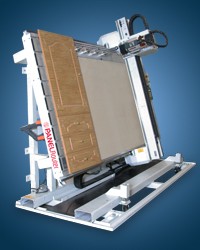 CNC Knife cutting systems from AXYZ International are another innovative solution that AXYZ has developed to satisfy demand from industry. Built on the rugged platform of our CNC Router product line, the knife systems are built to meet specific application needs for each of our customers.

Using our knife cutting systems you can proccess awide range of materials including, but not limited to
Graphic Foam boards, Closed Cell Foam, Plastic-covered Foam, Corrugated Cardboard and Plastic, Gasket Materials, Rubber, Cork, Carpet, Felt and other Single-ply Cloth or Fabric, Vinyl and more…
The knife system can be equipped with several different styles of knife head options.
Machine Configurations

The Knife systems, as stand alone or multipurpose systems, are built on the robust structure of the AXYZ Series router systems. This design ensures consistency of manufacturing, as well as the ability to upgrade and multi-task your investment.

Standard features of the systems include a Vacuum hold down ready machine bed, open table access from all sides, our easy to use but powerful AXYZ A2MC machine control system, low maintenance mechanical motion components, and the quality of our manufacturing and support groups.
Standard AXYZ Series machines come in the widest range of available sizes in the industry. Integrate the knife head of your choice onto the standard platform and you have a powerful cutting system. Integrate the Knife head with the multi-tool capability of the AXYZ system and you have a system that can process an even wider range of materials.

By creating a common platform, the AXYZ Knife solutions can be easily integrated into a wide variety of industries, including POP Displays, graphic imaging (for print finishing), sign making, Upholstery and furniture fabrication, marine fabrication and more.
---