Waveguide Rigid Twist Sections
Product Announcement from Advanced Microwave Components, Inc.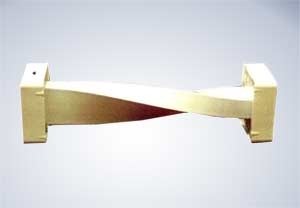 Advanced Microwave Components is proud to offer quality waveguide in a flash! Our waveguide twist sections are manufactured to our customer's specifications. All AMC components are produced with the highest quality available. We insure our quality with an ISO9001 / AS9100 Quality System. All parts are painted flat black and flanges are polished, unplated and iridited.
RIGID TWISTS:
1.70 - 22.00 GHz Performance Frequency
1.25 Typical Max VSWR (VSWR varies with design)
Numerous Flange Configurations available
Aluminum (6061) or Copper WR Waveguide Available
CONTACT US TODAY FOR A QUOTE!
---