Specialty Performance 3/8" Pump for Tough Jobs!
Product Announcement from All-Flo Pump Company, LLC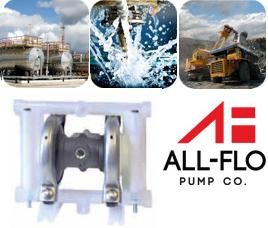 ALL-FLO Specialty Performance 3/8" air driven, double diaphragm pump is a revolutionary concept for low flow (0-9 GPM) applications. With Max-Pass® check valves as a standard feature, the transfer of a few gallons of fluid which contain abrasives or solids (up to 1/4"), high viscosity or coagulants no longer requires moving to a larger, more costly pump. Specialty Performance 3/8" Pump with Max-Pass® - Built for the Really Tough Jobs!
1. The pumps can be configured for drum evacuation.
2. Standard Max-Pass® valves allow the pump to be mounted in any position - saving valuable cabinet space.
3. Process controls can be added, either solenoid control or cycle counting. With either control, calibrate the flow and control via a PC, PLC or line switch. Manifolds are easily converted to dual manifolds in the field by simply opening the opposite port plug.
These pumps have an ATEX category 2 rating. PT, KT, and CT models are built with PTFE check balls - solids up to 1/16" (1,6 mm).
Learn more about the Solids Handling Pumps with Max-Pass®
Specialty Performance 3/8" pumps are available for trial applications - if you would like to set up a trial, e mail us via the links on the left
---