BLDC Generator Motor Solves Difficult Application
Product Announcement from BEI Kimco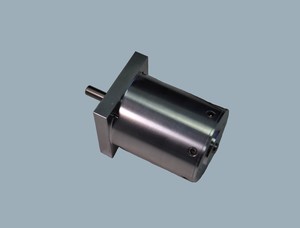 BEI Kimco Magnetics' Motor Generator Solves Challenging Application Requirements for High Shock and Vibration Capabilities
BEI Kimco Magnetics, a company of Custom Sensors & Technologies (CST), Inc., recently met the challenging generator requirements utilized in a railroad train signaling application. The generator is used to supply power to a remote brake health monitoring system.
Key to the product's design specification was a generator that could deliver a continuous voltage output of 40VDC Volts DC at a speed of 10,000 rpm. Additionally, the motor needed to be extremely reliable and durable to withstand the consistently high shock and vibration levels typical of a railcar environment.
To meet these requirements, BEI Kimco developed the DIH18-21-BBNA Brushless DC Motor, measuring 1.8" in diameter and 2.1" in axial length. The motor met the requirements to provide a constant output of 40VDC at speeds of 11,000 rpm. For improved reliability and longevity, the motor incorporated patented bearing suspension technology to absorb the relentless vibration and intense shock associated with the application. The uniquely robust "one piece" housing was designed to eliminate vulnerable attachment points. Similar technology has also been used successfully as a noise reduction feature in medical applications requiring low acoustical noise levels.
Following product development, the motor was put through a series of demanding vibration and reliability qualification test protocols. "The successful completion of those tests is a testament to the robustness of the BEI design," says Walter Smith, Application Engineer.
For further information visit http://www.beikimco.com/press/pr_highshock_vibration_041411.php or contact BEI Kimco Magnetics, 2470 Coral Street, Bldg. D, Vista, CA 92081-8430, USA, Tel: (760) 597-7042; Toll-free: (800) 572-7560; Fax: (760) 597-6320; email: sales@beikimco.com; www.beikimco.com
About BEI Kimco Magnetics:
BEI Kimco Magnetics is an operation of Custom Sensors & Technologies (CST). BEI Kimco Magnetics was founded in 1974 and specializes in rotary and linear motion control products. The company's precision motion control products include high-speed performance Brushless DC motors, Cylindrical and Flat Voice Coil Actuators, and Linear Motors. These products are used across a wide range of applications including medical and scientific, factory and office automation, optics, semiconductor/electronics, military, aviation, space systems, and security. Kimco merges leading-edge capabilities and cost-effective manufacturing know-how with highly customized applications expertise. www.beikimco.comAbout Custom Sensors & Technologies:
Custom Sensors & Technologies (CST) is a specialist in sensing, control and motion products. Through its brands, BEI Kimco, BEI Sensors, BEI PSSC, Crouzet, Crydom, Kavlico, Newall and Systron Donner, CST offers customizable, reliable and efficient components for mission-critical systems in Industrial, Aerospace & Defense, and Transportation markets. Focused on premium value offers and committed to excellence, CST, with more than 4,000 employees worldwide and sales of $530M US in 2009, is the dependable and adaptable partner for the most demanding customers. www.cstsensors.com
---