Product Announcement from BEI Kimco Magnetics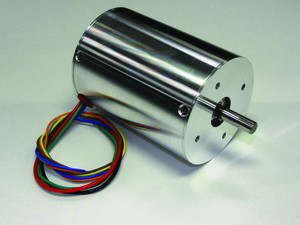 BEI Kimco Magnetics Size 23 BLDC Motor Meets Challenging Requirements for Modern Medical Device Technology
BEI Kimco Magnetics, a company of Custom Sensors & Technologies (CST), Inc., recently met the challenging motor requirements for a revolutionary new cast removal system for a leading medical device manufacturer. The new cast cutting system was part of the manufacturer's continuing goal to develop products that reduce trauma for pediatric patients. In this instance, the product would provide a new alternative to the conventional 40-year old cast saw technology, which was loud, cumbersome and threatening to small children.
Key to the product's design specification was a motor that would deliver consistently high torques to drive the cutting heads of the tool through several layers of cast material. It was also critical for the motor to be compact, lightweight and capable of extended battery operation.
To meet these requirements, BEI Kimco provided the High Performance Size 23 BLDC Motor with customized housing and shaft. The Standard High Torque Density Design (P/N DIH23-30-BFNA) delivers continuous power at levels approaching 1 HP continuous at speeds up to 20K RPM. Its compact size of just 2.3" O.D x 3.0" L with operating efficiencies in excess of 85%, resulted in a highly satisfactory motor solution - a motor powerful enough to drive the device blades, yet small enough to support the ergonomics of the final product for a cool running, comfortable patient solution. The motor's competitive price point easily allowed volume production of the new cast removal device.
"It was extremely satisfying to be involved in a project that would ultimately reduce trauma for children needing cast removal," says Walter Smith, BEI Kimco's Senior Applications Engineer/Project Manager for Motors. "With our ability to adapt standard motors to meet specific customer needs, we are able to work with medical device manufacturers and other industry designers to consistently meet unique requirements."
For more information contact BEI Kimco Magnetics, 1499 Poinsettia Ave. Suite 160, Vista, CA 92081-8430, USA, Tel: (760) 597-7042; Toll-free: (800) 572-7560; Fax: (760) 597-6320; email: sales@beikimco.com; www.beikimco.com
About BEI Kimco Magnetics:
BEI Kimco Magnetics is an operation of Custom Sensors & Technologies (CST). BEI Kimco Magnetics was founded in 1974 and specializes in rotary and linear motion control products. The company's precision motion control products include high-speed performance Brushless DC motors, Cylindrical and Flat Voice Coil Actuators, and Linear Motors. These products are used across a wide range of applications including medical and scientific, factory and office automation, optics, semiconductor/electronics, military, aviation, space systems, and security. Kimco merges leading-edge capabilities and cost-effective manufacturing know-how with highly customized applications expertise. www.beikimco.com
About Custom Sensors & Technologies:
Custom Sensors & Technologies (CST) is a specialist in sensing, control and motion products.
Through its brands, BEI Kimco, BEI Sensors, BEI PSSC, Crouzet, Crydom, Kavlico, Newall and Systron Donner, CST offers customizable, reliable and efficient components for mission-critical systems in Industrial, Aerospace & Defense, and Transportation markets. Focused on premium value offers and committed to excellence, CST, with more than 4,000 employees worldwide and sales of $530M US in 2009, is the dependable and adaptable partner for the most demanding customers. www.cstsensors.com
You have successfully added from to your part list.
---