Bemis Partners with Vibram FiveFingers®
Product Announcement from Bemis Associates Inc.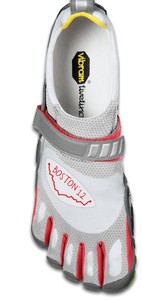 This unique film was custom printed to reflect the race course route from Hopkinton to Boston. The special models are on display and available at the new Vibram Store on Newbury Street in the Back Bay

Tony Post, Vibram USA President is pleased with the partnership, "The opening of the new Vibram Store on Marathon Weekend is an exciting event for us. We wanted to make something "cool and fun" for the occasion and asked Bemis for some technical help. They delivered exactly what was needed."

The Boston Marathon is the world's oldest annual marathon and ranks as one of the world's most prestigious road racing events. Both Bemis and Vibram have strategic facilities in the greater Boston area and are involved in the apparel and footwear worn by the runners.

For more information please contact Angela Apollonio at aapollonio@bemisworldwide.com
About Bemis Associates Inc.
Bemis is a leading worldwide manufacturer of heat activated film adhesives, waterproofing seam tapes and custom films for many industries including apparel, footwear, consumer electronics and automotive. Bemis specializes in engineering films and adhesives for use with all types of substrates and offers sales, distribution and technical support around the globe. Visit us at www.bemisworldwide.com to learn more.
---