Printed Seam Tape
Product Announcement from Bemis Associates Inc.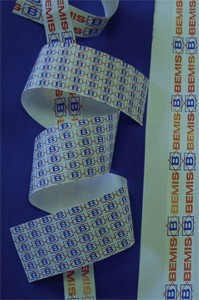 Bemis, an industry leading supplier of waterproofing seam tapes to the technical outerwear market, has added custom printing capabilities to its broad line of heat sealing tapes. To preserve an environmentally friendly choice, only non-solvent, UV cured and water based inks are used. Customer specified patterns, logos and designs can be applied to any Bemis seam tape to deliver a higher level of customization to technical outerwear garments. This capability was developed in direct response to customer requests for a way to easily differentiate products and tailor designs to meet market needs.
Bemis will showcase this innovative capability at outdoor shows in the United States and Europe.
"Increased customization and providing quick-turn solutions to our customers is an integral part of our success story", stated Steve Howard, CEO of Bemis. "Innovative ways to deliver solutions to our valued customers is an important gene in our company culture".
"These improved methods for customization are aligned with the aesthetic evolution that began with Bemis' creation of our Sewfree® line of adhesive films for apparel. The design possibilities are truly endless," explained Chris Parlee, Marketing & Promotions Manager for Bemis. "This is yet another capability that we believe is helping to advance the waterproof apparel market.
Bemis is a worldwide, leading manufacturer of heat activated film adhesives, coatings, waterproofing seam tapes and custom films for many industries including apparel, automotive, woodworking and composite. Bemis specializes in engineering films and adhesives for the technical outerwear industry and is the maker of Sewfree®, the revolutionary adhesive film used to bond textiles. Bemis offers sales, distribution and technical support around the globe. Call them at 1-800-543-1324 (1-978-425-6761) or visit their website to learn more.
---