Leveling Components
Product Announcement from Berg W.M., Inc.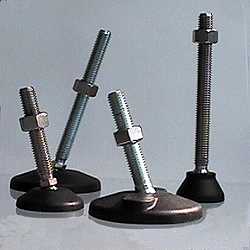 Leveling Mounts
W.M. Berg manufactures Sorbothane anti vibration leveling mounts that are designed to handle wide load ranges and varying conditions. The W.M. Berg leveling mounts are able to isolate a system from unwanted vibration and resonance because they lower the natural frequency of the system. These leveling mounts provide a quick and cost effective way to dissipate undesired energy. W.M. Berg's high quality leveling mounts can be custom engineered to fit your individual needs. W.M. Berg's dedication to quality and customer satisfaction makes W.M. Berg one of the largest global suppliers of precision parts, and the best choice for your precision parts needs.
Leveling Components
W.M. Berg manufactures high quality leveling components, designed particularly to solve vibration problems. W.M. Berg manufactures the footplate from reinforced polyimide (nylon) and manufactures the nut from stainless steel. The hardness of the stainless steel is 70 shore. W.M. Berg also can supply anti-slip pads manufactured from NBR rubber for the leveling components. Common applications for leveling components are injection presses, machine tools and typographic machines. W.M. Berg is committed to quality and customer satisfaction. W.M. Berg will work with you to custom engineer a vibration isolation solution to fit your needs.
---