Product Announcement from Catalytic Products International, Inc.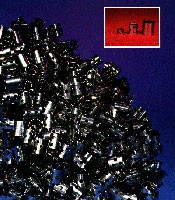 CPI designs and manufactures custom catalyst and catalyst retrofit systems for VOC, CO, and NOx from a variety of industrial and generating industries. The METAC Catalyst Products Group is staffed by a number of experienced professionals with a proven background in application chemistry and analytical experience. CPI began over 43 years ago as a supplier of custom catalyst formulations. Today we continue our long history of catalyst application sales and service along side our Air Pollution Control Equipment Systems Group. This unique collaboration of catalyst experience with systems expertise is unmatched in our industry.

• METAC All-Metal-Catalyst
• Ceramic Formulations
• Catalyst Testing and Service

The modular designs offered in the METAC Catalyst Products Group allow CPI to customize the size and configuration of the catalyst for the specific needs of your application. Not every application is identical. Pressure requirements, particulate size, solvent types, concentrations, performance requirements, installation requirements all come into design consideration. Catalytic Products International, Inc. offers over 100 different catalyst options to match the specific needs of your application.

The right chemistry forms the building blocks for an efficient catalyst. At CPI, our engineers have developed and refined our METAC Catalyst Products to offer a highly dispersed, finely divided precious metal particle distribution over customized structures offering enormous surface areas. The combined efforts of particle distribution and maximized surface area afford low operating temperatures, thermally stable operations, and long life.

CPI is a 43 year old manufacture of catalyst products, fume oxidation systems, heat recovery systems, energy conservation, maintenance and repair service, engineering service. A partial list of METAC Catalyst Products users include; nuclear power generation, turbine and boiler emission control, metal decorating, printing, food processing, semiconductor, chemical processing, petrochemical processing, gen-set emission control, among many others…
You have successfully added from to your part list.
---