CeramTec, A Leader in Advanced Ceramics
Product Announcement from CeramTec North America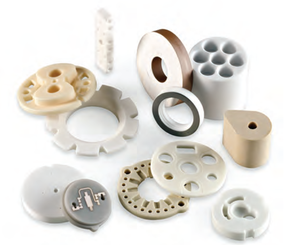 Not all ceramics are alike and neither are all ceramic manufacturers. At CeramTec, you'll find a partner who has the flexibility needed to produce a wide range of ceramic or hermetic products, no matter how unique or complex the design, exactly to your specifications.
Our team represents some of the most experienced minds in the business and is dedicated to going the extra mile for our customers. We can work strictly to your specifications, providing you with reliable and responsive manufacturing capabilities. When needed, we can also work as an extension of your design team, collaborating with you to find solutions that not only provide the functionality you need, but that are also easier and more cost-effective to produce.
Whether manufacturing an existing product or meeting the challenge of a new design, CeramTec is committed to performing and delivering exactly to your specifications, every time.
A LEADER IN ADVANCED CERAMICS
We specialize in the design and manufacturing of highly specialized, high-performance ceramics that demonstrate a unique array of mechanical, electrical, thermal and biological/chemical characteristics. Our knowledge of advanced ceramics ensures that no project is too complex, while our production flexibility ensures that no production run is too large or too small.
Currently, over 1,000 clients throughout the world count on us to deliver more than 4,000 products that are crucial to their operations. Our expertise and considerable investment in research and development equip us with an unmatched ability to meet the demands of a wide variety of industries and applications.
Visit CeramTec to learn more about our capabilities or contact us today.
---