Baking Soda Based Abrasive; Safer and Faster!
Product Announcement from Church & Dwight, Inc. Specialty Products Division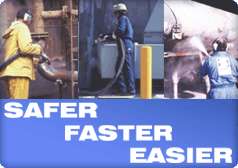 ARMEX® comes in 3 different particle sizes, simply put small, media and large.
The largest particle is about 270 microns and is used in all ARMEX® formulas that have "XL" in the name as in extra large; Maintenance XL, Maintenance XL with SupraKleen, HydroFlex XL, Flow XL and Profile XL. This large particle is excellent for coatings removal and heavy cleaning applications.
The next medium sized particle, is about 170 microns and is found in Maintenance Formula, Maintenance Formula with Suprakleen, and Flow M.
The smallest particles about 70 microns are found in Anilox Roll Cleaning Formula, Electronics, Composite, and Turbine Formulas.
MOISTURE GUARD
One of two types of flow aids are used in ARMEX® formulations. Most contain MoistureGuard™ 2 which makes the media about two times more resistant to moisture than regular baking soda or other baking soda abrasives. Our advanced flow aid MoistureGuard™ 8 makes the media 8 times more resistant to moisture than regular baking soda or other baking soda abrasives. These flow aids are very important in a blasting operation to ensure that the media is running continuously and consistently through the orifice to the nozzle. Because the blast equipment runs on compressed air, clumping and clogging of media is a primary concern for blasting operations particularly when working in high humidity environments.
SUPRAKLEEN
Aside from flow additives other ingredients in some formulas bring additional benefits. SupraKleen aids in rinsing. Any of the SupraKleen products should be used when removing coatings with the intention of reapplying a new coating. Rinsing following the use of a SupraKleen product assures you greater coatings adhesion.
HYDROFLEX
The HyrdroFlex product contains a surfactant that works particularly well on greases and oils and was originally designed to be used with the pressure washer injection systems. Although it can be used equally well in air driven systems, the benefits are evident as long as water is employed during or after the process. FLOW FORMULAS Flow formulas contain MoistureGuard™ 8 and are the products to use in high humidity areas, where compressed air may be wetter than usual and cause clumping and clogging of the media. While flow formulas can remain dry even in water, following blasting the moisture resistant barrier is broken and the waste media is fully water soluble. MoistureGuard™ 8 is also found in Anilox Roll Cleaning Formula, Composite Formula and Electronics Formula
VERSATILITY
ARMEX is an extremely versatile abrasive that can be used on the toughest of coatings and the most sensitive of surfaces. Think of ARMEX first when you're concerned with any of the following:
Substrate Preservation
ARMEX® is soft, only 2.5 on the Moh's hardness scale. When used correctly it will not wear even the most sensitive surface. For example it will not etch glass. This attribute makes it excellent for cleaning critical components with machined tolerances or detailed contours that must be maintained. ARMEX® can be used without damage or distortion to most ferrous and non-ferrous metals. Architectural surfaces can also be preserved with little or no erosion to mortar joints or surface materials, be it natural stone, brick, block or wood. Additionally ARMEX® can be used safely around pumps, seals, bearings, even rotating equipment without causing damage.
---