Rail Car Cover: Shipping the Right Way by Railway
Product Announcement from Conwed Global Netting Solutions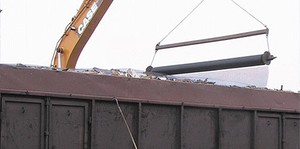 RAILCAR COVER
Conwed netting is an excellent material to keep your cargo intact.
Conwed manufactures an exceptional mesh for railcar cover applications. Our dedicated team of engineers can customize mesh size, weight, tensile strength and other characteristics to meet your precise performance requirements. Our plastic netting is easily installed from above the railcar and attaches quickly by fixing several strands on each of the hooks mounted on the car. Transportation companies use our mesh railcar covers to protect cargo from flying out of railcars when trains go around curves, are hit by strong winds, or when pressure changes inside tunnels.
For further information about our mesh railcar cover portfolio, please contact our team.
---