Universal Terminal Block
Product Announcement from ERICO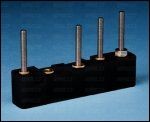 Features
Universal Applications - The universal block is very versatile and can be used in many wiring schemes, such as the ERICO Protection Panel or the Faraday Shield Approach to achieve a low impedance path to earth. With the Faraday Shield Approach, the block is easily installed to the ground plane for either "clean side" (equipment) or "dirty side" (field) installation.
Facilitates proper wiring practices - The Universal Terminal Block separates arrester input and output wiring to eliminate electrical coupling. Without this separation, electrical coupling can corrupt information and damage sensitive electronics.
Integrated Test Terminal - Allows for testing of all external cables with disassembly.
AAR Hardware - ERICO Terminal Blocks accept all standard AAR hardware.
Applications
Used to provide a low impedance path to earth, and is part of the ERICO Protection Panel (EPP) system.
---