ELC Programmable Logic Controllers
Product Announcement from Eaton Corporation - Power Control & Logic Components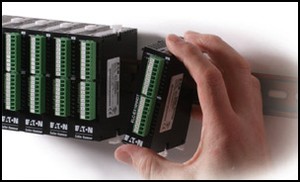 Overview
The ELC Programmable Logic Controllers from Eaton feature small size (but large PLC functions), flexibiilty, easy-to-use software, and vast communications capabilities--all at an exceptional price.
Size
Provides large PLC features and functions in a small, one-inch package.
Flexibility
Handle I/O counts from 10 I/O up to 256 I/O using a single controller. ELCs eliminate the process of counting I/O and deciding which controller to use as modules can easily be added and removed as needed. ELC modules come in many flavors of I/O from modules containing 4 In / 4 Out to modules containing 8 In / 8 Out. ELC controllers and modules mount to a DIN rail and the modules are added by simply snapping them into the mating connectors and closing the attached locks.
Large PLC Features
Includes the feature set of larger PLCs such as multiple communication ports, remote I/O, data storage, high speed counters, high speed pulse outputs, interrupts, timer resolution to 1ms, PID, plus much more.
Software
The entire line of ELC controllers are programmed by using the ELCSoft software that runs on your PC or by using the hand held programmer accessory. These tools can also be used to easily upload, download and transfer programs.
Power of One
Communicate easily to other Eaton devices without additional interface devices. ELCs can communicate with MVX drives, eliminating the need to operate drives by analog voltage/current or digital I/O. ELCs can access all of the parameters in the MVX by serial communications saving OEMs time and money. ELCs also communicate to IT. I/O through the Modbus TCP gateway allowing ELC to control the IT. I/O if local control is desired. This allows local control in MCC applications where the ELC can be a DeviceNet, Profibus, or Modbus TCP communicating to an MCC. ELCs communicate to PowerNet Modbus products allowing ELC connectivity to Switchgear and PowerNet applications.
ELC Controllers
The ELC Controllers come in four basic styles - 10 I/O, 12 I/O, 14 I/O or 12 I/O with High Speed Relays.
The controllers offer combinations of the following:
High speed pulse capture and high speed pulse output on all controllers
Interrupts
Large module selection AC/DC in, Relay/Transistor out
Large analog selection of Analog in, out, combined, Thermocouple, RTD, and Platinum.
Over 240 instructions to choose from: Floating point math, communications, hex, decimal, octal, BCD, ASCII conversion, 1, 4, 8, 16, 32, bit manipulations, logical, block move, block compare, retentive data storage, time base from clock/calendar.
2 Modbus (ASCII or RTU) serial ports: 1- slave only, 1 master/slave
Network communications on Modbus TCP, DeviceNet, and Profibus.
ELC controller can be wired for remote I/O communications (except the 14 I/O model).
ELC Modules
ELC Digital I/O Expansion modules provide the correct amount and type of I/O for application solutions. Users can choose 4, 8 or 16 I/O with different combinations of AC and DC input and Relay and Transistor output. Any number of expansion modules can be added to an ELC controller to create up to 256 I/O. In addition to the Digital I/O Expansion modules, specialty modules like Analog in, Analog out, Platinum Temperature and Thermocouple Temperature are also available.
ELC Communication Modules
The ELC communication modules are used to link ELC controllers to networks such as DeviceNet and PROFIBUS-DP. These modules provide more flexibility, allowing the ELC to share information with other devices on the network.
For more information on ELC, visit Eaton's Product Page or click the email link on the right of this page.
---