Take the Tour - Surge Protection Interactive Guide
Product Announcement from ASCO Power Technologies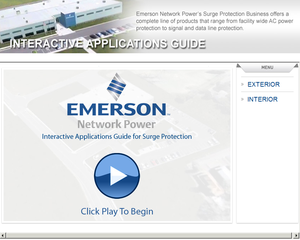 With over 40 years designing and manufacturing world-class surge protection products, Emerson Network Power introduces its new interactive applications guide to assist customers in answering two important questions:
Where should surge protection be installed?
What surge protective devices should be used?
Emerson Network Power answers these questions using its own world-class facility in Binghamton, New York; graphically demonstrating actual surge protection product installations for both interior and exterior applications.
Want to know more? You're invited to TAKE THE TOUR or contact us for an on-site tour.
For Emerson Network Power's complete surge protection product offering, visit www.emersonnetworkpower.com/surge.
If you have questions, please call us at 800-288-6169 (U.S. and Canada) or email SurgeTech@Emerson.com. Our customer service team is ready to assist you in finding the right Power Quality Solution. We're here to help!
---