Phase Sequence/Motor Rotation Tester (480403)
Product Announcement from Flir Commercial Systems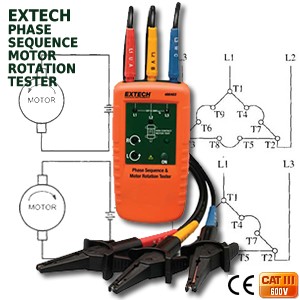 Problem: You just had a motor serviced or you bought a replacement motor. You're ready to connect it. What is the critical task you must perform to ensure the correct operation of your new/repaired motor's connected load? You must determine the motor's correct rotation.
Don't be fazed by phase sequence!
Solution: The durable and compact Extech 480403 is ideal for determining phase sequence on 3-phase systems, confirming phases are live, and checking rotation direction on motors and rotating plant equipment. The Extech sequence/rotation tester also features the added safety of a built-in non-contact rotation detection sensor. This 2-in-1 meter checks both phase sequence and motor rotation.
Features:
• Indicates rotation direction of the motor
• Determine rotation of a motor without contact
• Ensures that motor does not get damaged from incorrect wiring
• 40 to 600VAC rated test range for testing phase orientation of three phase power sources over 2 to 400Hz frequency range
• LEDs indicate phase orientation (clockwise or counter-clockwise) and whether each of the three phases is live
• Durable housing is double molded
• Easy to open alligator clips with wide jaws
• Complete with cable and three large color coded alligator clips, pouch case, and 9V battery
Typical Operation Tasks
Determine Phase Rotation Direction
Check Motor Turn Direction (contact method)
Check Motor Turn Direction (non-contact method)
Related task: Magnetic Field Detection

Specifications
Dimensions (H x W x D): 5.1 x 2.7 x 1.3" (130 x 69 x 32mm)
Weight 4.6 oz. (130g)
Electrical Safety Approvals IEC 61010/EN61010, IEC 61557-7/EN 61557-7
Maximum Operating Voltage (Ume) 600 V
Overvoltage Protection Level CAT lll 600V
Battery type 9V battery
Current Consumption 20mA max.
Battery life One (1) year minimum
Nominal Voltage 40 to 600 VAC
Frequency Range (fn) 2 to 400Hz
Nominal Test current (in per phase) < 3.5mA
Pollution Degree 2
Approvals DIN / VDE 0411, IEC 61010, DIN / VDE 0413-7
You have successfully added from to your part list.
---