Safer, Economical Hach s-TKN™ Method
Product Announcement from Hach Company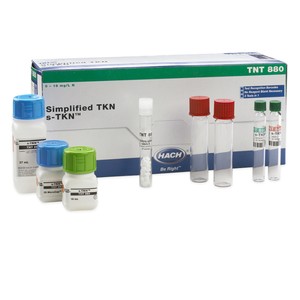 Loveland, Colo. – Feb. 18, 2010 – Hach Company (www.hach.com) introduces the new s-TKN™ (Simplified TKN) method and chemistries for TKN (Total Kjeldahl Nitrogen) analysis. Typically, TKN involves one of the most challenging, dangerous, labor-intensive and costly tests that a wastewater operator performs. While many plants are required by regulating bodies to report TKN, a significant number also use it to monitor plant operations. Performing a low-cost, safer TKN gives operators an improved tool for process control. Real-time results also eliminate the delay associated with outsourcing tests, giving a more effective tool for making necessary process adjustments. Hach's s-TKN method eases the headaches of TKN, all for under $4 per test.
Hach's s-TKN chemistries package contains everything needed to measure TKN in one box. The s-TKN method uses TNTplus™ technology, offering safer pre-measured chemistries that work exclusively with the Hach DR family of spectrophotometers (DR 2800™, DR 3800™, and DR 5000™). The chemistry vials require no preparation, glassware, or cleanup and enable the spectrophotometer to automatically recognize the testing method, eliminating the need to pre-program or create calibration curves. No blank is required, further reducing expense. The new s-TKN system:
· Eliminates the use of hazardous mercury
· Reduces operating expenses with costs under $4 per test—this represents an annual estimated savings of over $550 compared to outsourcing TKN on a monthly basis
· Minimizes training and equipment requirements
· Takes approximately one hour total analysis time with minimal hands-on time
For more information on Hach's Simplified TKN methods and chemistries for Total Kjeldahl Nitrogen analysis, visit www.hach.com/simplifiedTKN.
---