Leading-Edge Castings for Chassis & Body
Product Announcement from Hitachi Metals America, LLC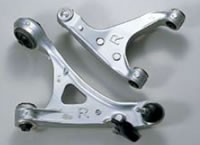 The Hitachi Metals Group places a high priority on being able to enact weight reduction actions to your current vehicle by optimizing the part design as well as utilizing lightweight material substitutions. In addition, the group aggressively responds to auto manufacturers' requests by maximizing our leading-edge casting and surface treatment technologies.
Suspension Components and Materials
High-Vacuum Aluminum Die Castings
Semi-Solid Aluminum Die Castings
High-Quality Aluminum Alloy Castings
"HNM™ Series" High-Toughness Ductile Iron Castings
Aluminum Wheels
SCUBA™ Wide-Rimmed Aluminum Wheels Provide Sophisticated Design
Visit Hitachi Metals or contact us today for more information.
---