InCon's Molecular Distillation System...
Product Announcement from InCon Process Systems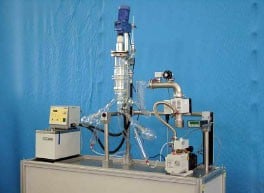 InCon's Laboratory Short Path Distillation System is a small Molecular Distillation System for R&D facilities. It is invaluable in developing formulations, generating products and proving process separations involving Molecular Distillation Technology
Since small quantities of the materials are required, this versatile tool provides the means for isolating small quantities of your formulation for evaluation. The Single Stage Distillation Plant runs at 0.1 to 2.0 liters per hour, with shorter run times possible.
This is a complete system including the feed vessel, Short Path Evaporator and internal condenser, hot oil heater, condenser cooling system, cold trap, and vacuum system. The Short Path Evaporator and internal condenser and product piping is constructed of high quality Duran glass; the wiper basket and rotary vacuum pump are constructed of stainless steel. Gaskets are made of Viton®. Optional materials can be specified as required.
This is a complete system, ready to install in your laboratory. The system includes:
Jacketed feed vessel
Feed flow control metering
Complete Short Path Evaporator with Internal Condenser
Variable rotor speed
Condensing media nozzle
Product discharge system
Condensate discharge system
Round bottom flasks for distillate and residue
Graduated receivers
Complete Vacuum System
Two stage rotary vacuum pump with exhaust filter, and electric diffusion pump
Vacuum control valve and electronic vacuum gauge
Cold Trap for liquid nitrogen or dry ice
Hot Oil Heating System for evaporator cooling system for condenser
Stainless Steel Mounting Frame
Power Supply by customer
Spare Parts
Operating Instructions
---