Product Announcement from Indukey North America LLC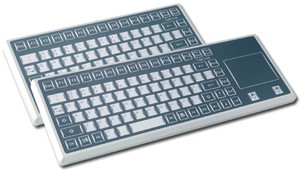 Professional quality, ruggedness, space saving dimensions and an aesthetic look must not be contradictions. This new series of foil covered keyboards, TKF-085c, offered under the brand name InduStyle™, includes all these features and, in addition to the basic compact version, is also available with an integrated touchpad.
The world's leading provider of industrial input solutions, InduKey®, has added the InduStyle™ to its large assortment of input devices.
The tough anodized aluminum housing is made from a single piece by means of modern milling technology and guarantees both the highest strength and an aesthetically high-quality design.
The compact dimensions measurement and the low case height of only 15.5 mm (0.6 inches) allows not for the use in standard 1 HU 19" industry drawers; but it can also be mounted into drawers with lower inside dimensions
The metal domes - used as switching components - ensure a good tactile feedback and a lifetime of about 2 million cycles. Gold-on-gold contacts ensure low transition resistance and excellent contact durability. Because of the flat and completely closed surface this high-quality data input device can be cleaned very easily and is protected to IP65/NEMA 4 standards.
For operation with graphic user interfaces, The KS2067 features an integrated touchpad is suited excellently. The keyboard is available with either PS/2 or USB interfaces.
Ideal for front-end applications.
InduKey®, based near Treuen in Germany, is the leading manufacturer of rugged Industrial and Medical Keyboards and Input Devices. Founded in 1996, InduKey® products are supported by world-class engineering, R&D and manufacturing expertise. InduKey® provides practical solutions to specific application requirements, whatever your market.
You have successfully added from to your part list.
---