Safety Flammable Cabinets - Manual Close Doors
Product Announcement from Jamco Products, Inc.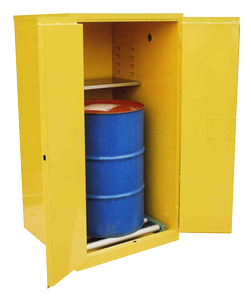 The Model BV from Jamco Products is a 2 door manual, double wall cabinet to contain flammable 30 to 60 gallon drums in protected storage. With manual close doors and all welded double wall 18 gauge construction with 1-1/2" insulating air space the model BV comes in two models; one with a 60 gallon capacity and one with 120 gallon capacity. There is a 2" leak proof sill to contain any potential leaks. Additionally, the Model BV comes with a lockable flush mounted handle with 2 keys and the manual close doors, which open to a full 180 degrees, also have a 3 point locking system and radius edges. This cabinet meets OSHA, and NFPA code 30 standards. Chemical storage maximum - Class I & II - 60 gallons, Class III - 120 gallons. Click here to learn more about Jamco Products' entire line of safety flammable cabinets.
Product Features:
• All welded double wall 18 gauge construction with 1-1/2" insulating air space.
• 2" leakproof sill to contain leaks.
• Lockable flush mounted handle with 2 keys.
• Doors have 3 point locking system and radius edges.
• Doors are double walled, 14 gauge outside, & 18 gauge inside.
• 4" heavy duty welded hinges with brass pins.
• Twin 2" flame arrester vents.
• Galvanized steel 1/2" depth shelf adjusts on 2 1/2" centers.
• Adjustable leveling feet.
• Powder coated yellow finish.
• Safety signage in large red letters.
• Grounding connector.
• Meets OSHA, and NFPA code 30 standards.
• Manual close doors open to full 180 degrees.
• Chemical storage maximum - Class I & II - 60 gallons, Class III - 120 gallons
---