Custom Cold Plates
Product Announcement from Lytron Inc.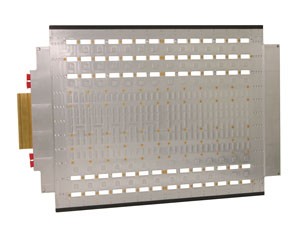 Our cold plate experience is extensive. Lytron's cold plate technologies include aluminum vacuum-brazed cold plates, copper cold plates, and liquid-cooled chassis, which consist of multiple cold plates. We've designed and manufactured small ultra-lightweight thermal plane cold plates for airborne military applications, large cold plates for medical and industrial applications, and everything in between.
The drive towards higher powers and more compact packages is making liquid cooling a necessity in many applications. This presents many challenges, particularly to those new to liquid cooling. With 50 years of experience in heat transfer, strong engineering support, and a wide range of thermal transfer products, Lytron is the ideal partner to guide you through the custom cold plate design process.
Our cold plate experience is second-to-none. We manufacture all the thermal components in a cooling loop, so we view the cold plate as part of a larger system rather than in isolation. This in-depth understanding results in more cost-effective and innovative solutions to your thermal challenges.
Your cold plate design will benefit the most by involving Lytron early in the engineering process. While our continual investment in capital equipment for our factory enables us to competitively bid 'build-to-print' a cold plate, when we design a cold plate to your performance specification you realize the greatest cost savings.
Every custom cold plate is different, but the design process is the same. Our project engineers use advanced thermal analysis software to model your heat loads and arrive at a cold plate design that meets your thermal and pressure drop performance requirements. Our manufacturing engineers ensure that the cold plate is cost-effective to build and is designed for high reliability. Custom cold plates are then manufactured and tested in our state-of-the-art factory. The entire process from initial design to final test is carried out in-house. This vertical integration gives us total control over the finished cold plate, as well as offers increased flexibility and shorter lead times.
Lytron can also add value to your cold plate by adding components such as fittings, manifolds, hoses, and quick disconnects. We can even incorporate sensors, controllers, and other accessories into the cold plate design. These may be customer supplied or we can source them. Either way, your cold plate arrives ready to drop into your system, saving you time and energy.
You have successfully added from to your part list.
---