Plate-Fin Heat Exchangers
Product Announcement from Lytron Inc.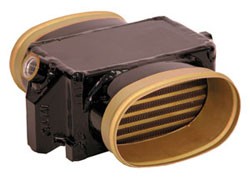 Plate-fin heat exchangers offer excellent thermal transfer capacity combined with small size and weight.
Aluminum vacuum-brazed plate-fin heat exchangers are widely used in military and aerospace and other high performance applications because they offer excellent thermal transfer capacity combined with small size and weight. A plate-fin heat exchanger can be designed for use with any combination of gas, liquid, and two-phase fluids (air-to-air, air-to-liquid, or liquid-to-liquid cooling). A variety of finishes are available including paint and Milspec coatings. All plate-fin heat exchangers are custom designed as every requirement is different.
Superior performance: Plate-fin heat exchanger technology, which consists of finned chambers separated by flat plates, offers our highest thermal performance. The plates and fins create a large surface area for heat transfer, and the fins create turbulence in the fluid to further improve performance.
Lightweight: The all-aluminum construction of the plate-fin heat exchanger offers superior performance/weight ratio.
Completely customizable: All our plate-fin heat exchangers are custom designed so that we can supply you with the most efficient, compact, and lightweight part possible. The number of plates and fin layers, the size of the plates and fin, the height of the fin, and the type of fin are carefully selected for optimum performance. Manifold ducting and mounting brackets are welded in place as required, and a wide variety of paint, Milspec, and other coatings are available.
High reliability and cleanliness: The plate-fin heat exchangers' plates and fin are assembled in an environmentally controlled room for maximum reliability and cleanliness. Also, our numerically controlled vacuum brazing process and robust fixture designs ensure complete metallurgical bonding between the fins and separator plates for ruggedness and quality.
Custom testing/certification: Complete shock and vibration testing and agency approvals are also available for plate-fin heat exchangers.
Lytron specializes in the design and manufacture of custom cold plates, cooling systems, heat exchangers, and heat exchanger assemblies. Please view our custom solution gallery below, which shows a sample of some of the custom plate-fin heat exchangers we've manufactured
You have successfully added from to your part list.
---