Accurate Blu-ray Stamper Thickness Measurement
Product Announcement from MicroSense, LLC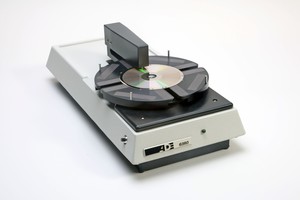 Long considered the optical media replication industry "gold standard" for repeatable, non-contact stamper thickness measurement, the Model 6360 stamper thickness measurement gauge now offers improved performance for high resolution measurement of all stamper types, including Blu-Ray stampers.
Takes DVD Stamper Measurements of Thickness
Measures thickness of punched and unpunched stampers of any kind - BD, DVD and CD - up to 230 mm in diameter. A version of the 6360 is available for magnetic disk media thickness measurement.
The 6360 CD is outfitted with a "Universal Platter" which holds nearly any size stamper, and custom stamper holders are available for special requirements.
Easy to set up and operate - select one or four scans for each stamper being measured. Simple one button operation, clear display of PASS or FAIL.
Thickness accuracy is ±1 micron, and the thickness measurement result is not affected by change in room temperature, the system self calibrates before every measurement.
Get control of your galvanic process with accurate stamper thickness measurement and SPC
The 6360 provides statistical process control capability, and all measurements are stored in a local database on the PC that can be exported over your network for further analysis.
The 6360 measures and displays maximum thickness, minimum thickness, average thickness, and taper (TTV) for each measurement scan.
A limit for maximum and minimum thickness may be set for pass/fail indication.
The taper start and end points can be set by the user.
The database allows saving and recalling of thickness data along with other parameters.
The database fields may be configured for tracking, sorting and reporting user defined criteria (i.e. selection, cut number, bath number, & operator, etc.)
---