OS5000-USD Digital Compass with Depth
Product Announcement from OceanServer Technology, Inc.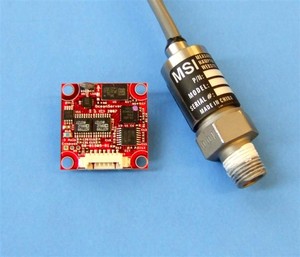 The OS5000-USD is an extremely small form factor (1" x 1") 3-axis, tilt compensated digital compass. The flexible design allows customers to use either a USB or an RS232 Serial connection for system integration. The OS5000-USD provides precise heading, roll and pitch data ideal for rapid attitude measurement. The compass offers an easy to use ASCII interface, hard and soft-iron calibration and simple data configuration for your application.
The OS5000-USD supports the direct connection of an amplified pressure transducer and the ability to convert the pressure data to depth in water. The compass will report depth in the compass strings. Compatible pressure transducers operate in the 0.5V - 4.5V direct output (such as the MSI MSP-340). Reference the Compass User Guide for further information on transducer connection.
Key Features
> Tiny size, 1" x 1"x 0.3"; weighs less than 2 grams weight

> Precision compass accuracy, 0.5 deg RMS Level Heading, 1° Typical RMS accuracy < ± 30°, 1.5° < ±60°, .1 Degree Resolution
> Roll & Pitch full rotation
> Typical 1° accuracy < ± 30° tilt
> Tilt-compensated (electronically gimbaled)
> Low power consumption, <30ma @3.3V, 35ma running in USB
> Hard and soft-iron compensation routines
> Support for a high resolution depth or altitude sensor (24 bit A/D)
> Serial Interface: RS232 or USB
> 50 MIPS processor supporting IEEE floating point math
> Baud rate programmable: 4,800 to 115,000 baud
> Rugged design (10,000 G shock survival)
> Operating temperature: -20C to 70C (Specified Accuracy for 0C to 50C)
> ASCII sentence output in several formats; NMEA checksum
> Data update rate up to 40HZ
> Support for True or Magnetic North output
> Precision components:
3 Axis magnetic sensors from Honeywell
3 Axis accelerometers from ST Microelectronics
24 bit differential Analog to Digital converters from Analog Devices

> USB to Serial Driver or Direct Serial Connection. USB using the Silabs CP210x chip. USB drivers for Windows, Linux, Apple OS X.
> RoHS Compliant, OS5000-USD is the next generation replacement for OS3500 and OS1500 compass boards
You have successfully added from to your part list.
---