ThermoTRACK-IR Infrared Camera
Product Announcement from Spectrum Instruments Ltd.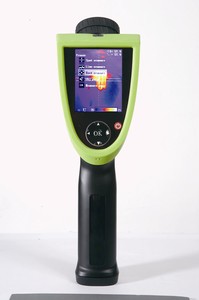 MORE, FOR LESS !
Spectrum's new family of ThermoTRACK-IR infrared cameras include all the usable features of high end imagers and yet is priced so that everyone can afford to own one. Compact, easy to use, ThermoTRACK-IR's 60 Hz refresh rates provides a crisp vivid infrared image (a feature traditionally offered by more expensive camera systems). Field changeable lens and high temperature filters increase the flexibility of this cost effective line of imagers
Key Features
Excellent thermal image and high accuracy temperature measurement: ± 2% accuracy, 65mk thermal insensitivity
Wide temperature measurement range: cover -20° to 250° C standard; 1200° C optional
Laser pointer: helps user to locate target quickly and easily
Built-in microphone to record 40 sec voice annotation: allows user to make quick voice comments with every thermal image; the voice annotation is stored permanently with the thermal image
Exchangeable IR lenses for more flexibility: A flexible design allows ThermoTRACK-IR to adapt a wide-angle lens or a telephoto lens as needed. With a replaceable lens design, ThermoTRACK-IR presents a larger image for distant objects with a telephoto lens, or more details in a landscape scenario with a wide angle lens.
High temperature measurement option: The temperature measurement range can be extended to 1200° C by simply attaching a high temperature filter on to the camera lens.
Automatic Hot / Cold / Average spot recognition: Camera automatically searches out hottest sport (or coldest, or average) in any image - allows for faster fault identification
Intuitive operating menu: Supports single-handed operation for quick camera operation and reduced inspection time
Multifunction PC analysis IR software: ThermoTRACK-IR comes with its own PC software; "IR Software" allows user to analyze thermal images, listen to voice comment and add digital visible images to support a post inspection report; reports can be seamlessly merged and edited in Microsoft Word
You have successfully added from to your part list.
---