Wireless Monitoring System
Product Announcement from Spectrum Instruments Ltd.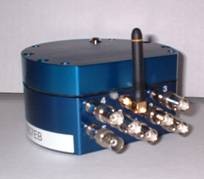 NOW COMPATIBLE WITH CSI RBMWARE, SKF PRISM. ENTEK ODYSSEY AND OTHER DBASE SOFTWARE PROGRAMS
Spectrum Instruments "WAM" Wireless 6-channel networkable Asset Monitoring System is engineered to withstand heat, cold, water, and caustic environments acquiring and transmitting data miles away.
Features:
six(6) channel (weekly, daily, hourly up to continuously) acquired vibration channels, up to six(6) process channels and one(1) tach channel
Mesh network 900 Mhz radio with high power 'Spread Spectrum' transmission in the ISM band
up to 2 miles extended range or line-of-sight with optional direction antenna
comes with a rugged industrial case milled from a solid piece of aluminium
LED light indicates power is on, taking and transmitting data (off and flashing modes)
24V powered
BNC connectors - compatible with traditional ICP accelerometers and wide variety of other vibration sensors
multiple modules can be networked through out the plant
Reliable - no moving parts!
Receiver connects to customers PC with supplied USB cable
data is conditioned, reviewed and archived in a suite of MAARs Online Monitor & Pathfinder software
Optional Translator Software - facilitates transfer of 'WAM' data to most brand name data collector and walk-around data collector software systems
analytical tools include FFT, waterfall and trend displays
system has been fully tested included real world testing in a number of actual user applications
Applications (permanently mounted or portable trouble shooter):
pump
motors
gearboxes
chillers
cooling towers
paper machines
draglines
cranes
just to name a few
Let us configure one of Spectrum's "WAM" Wireless Asset Monitoring System to meet your unique requirements. We will walk you through the installation and commissioning via phone/email or have us on-site for some installation assistance and formal training....either way you are assured to end up with a fully functional system - not something that will sit on the shelf!
---