TS-01 Open Package Test Fixture
Product Announcement from TM Electronics, Inc.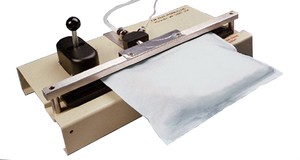 Use the TS-01 with the TME BT-1000 Automated Package Tester to test flexible porous peelable pouches sealed on three sides. The TS-01HP can be used for non-porous welded pouches up to 30 psi. The 12-inch open package fixture provides a pneumatically driven clamp that will seal the open end of a flexible package during the inflation testing for package seal strength in accordance with ASTM F-1140. The flexible materials of the clamp surface conform to the installed supply and sensor tubes, sealing the package material and test assembly. Convenient quick disconnect air connectors provide simple and easy access to the BT-1000 Automated Package Tester.
---