F-Scan In-Shoe Pressure Mapping System
Product Announcement from Tekscan, Inc.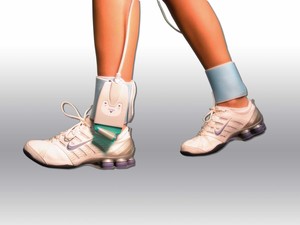 The F-Scan® system from Tekscan, Inc. uses ultra thin, high resolution in-shoe sensors to collect bipedal plantar pressure and timing data. This unique system provides accurate and objective information on the interaction between foot and footwear, helping clinicians and researchers better understand foot function and gait. F-Scan is used by top footwear companies, hospitals, and universities around the world, and has proven itself to be an incredibly valuable tool for more thorough gait analysis.
F-Scan is now available with Wireless and Datalogger electronics, giving the wearer complete freedom of movement for more natural gait information. The F-Scan Wireless Unit transmits data to a computer via WiFi connection in real time, so the user is able to visually correlate pressure distribution and Center of Force (CoF) trajectory information with the subjects' movement. F-Scan Datalogger collects and records in-shoe pressure data at the fastest scan rates available in virtually any environment, making it the perfect tool for analyzing quick contact activities like running and jumping.
Each F-Scan sensor includes 960 sensing elements and a spatial resolution of 4 sensels/cm2. The reusable, ultra-thin (0.15mm) sensors are minimally intrusive and may be used with any kind of footwear. The standard operating pressure range of the sensors is approximately 160 psi (11kg/cm2) maximum. With an 8 bit digital output of the electronics, the user can read pressure differentials of ~ 50g/cm2 resolution. Software features include ASCII data saving capabilities for further data processing and analysis as well as the ability to compare before and after data side by side.
You have successfully added from to your part list.

Play F-Scan In-Shoe Pressure Mapping System Video on YouTube
---