Benchtop Stainless Steel Desiccators (Series 100)
Product Announcement from Terra Universal, Inc.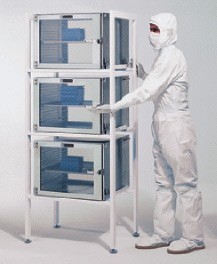 Durable 304 stainless steel enclosure maintains low humidity conditions to prevent oxidation and other moisture-related product defects
One-piece, non-adhesive seals prevent outgassing, maintain a positive internal pressure to block out moisture and contaminants
Inlet and outlet ports allow precise regulation of nitrogen flow
Electropolished stainless steel racks allow height adjustment of shelves
Select front and rear windows of safety glass or Static-Dissipative PVC, which eliminates charges and the particles they attract
Optional Dual Purge™ and NitroWatch® systems automatically maintain specified humidity set point for optimal performance
Stainless Steel Desiccators Provide Cleanliness, Convenience, Economy
They feature transparent front and back windows for great visibility of stored materials; select either safety glass or Static-Dissipative PVC to suit your application. The front door features a full-height hinge.
Each desiccator is also equipped with inlet and outlet ports that allow gas to be purged through the storage area; select Terra's Dual Purge™ System and Automatic RB® Valve to ensure an economical nitrogen flow that maintains a continuous positive internal pressure and locks out moisture and particles. Note: for automated gas purging and humidity control in multiple chambers, select the Series 200 Desiccator
304 Stainless Steel Stands for Desiccators
Each supports up to three 22"-wide Series 100 Stainless Steel Desiccators. Overall dimensions: 28"W x 67"H x 21"D. Height from floor: 12". Non-caster models include leveling feet. Each hard-rubber caster is rated for a 210-lb. load; casters raise the stand an additional 3.5" off the floor.
---