Multimeter Current Probes, AC
Product Announcement from TestPath, Inc.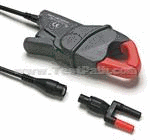 Clamp-on current probes typically plug into digital multimeters (DMM) converting them into current meters capable of measuring AC current.

Clamp-on current probes measures current without disconnecting circuit under test and can works with any multimeter including multimeters manufactured by Agilent, BK Precision, Extech, Fluke, HP, MeterMan and Wavetek

Can't find it? Got a question? Help is Online
TestPath: The Specialists in Test Equipment Accessories
Electronic Test Equipment Accessories Stocked for Immediate Delivery. Same Day Shipping on Orders Placed by 5pm ET.
TestPath is the specialist in accessories for electronic test equipment. We have been selected by many test equipment manufacturers as their authorized source for test accessories. View at a glance our most popular products for BK Precision, Cal-Test, Fluke, Meterman, Pomona Electronics, Tektronix and Test-Um test equipment and accessories.
We extensively stock and provide detailed specifications and pictures of literally thousands of electronic test equipment accessories for oscilloscopes and digital multimeters including AC/DC current probes; 2kV - 40Kv high- voltage probes, SMD and RF probes plus passive, active and differential scope probes from 15Mhz - 8GHz. Over 90% of the time we have in stock the test leads, ground leads, test probes, probe tips, and large, mini or micro (alligator, pincer or hook-style) test clips you need to meet the needs of SMD (Surface Mount Devices), high-speed electronics, automotive and electrical test applications.
Cage Code: 395H6
SICs: 3825,50665,5085,7629
NAICs: 334515, 423610, 423690, 811219
Your Specialists Providing
electronic test equipment accessories
Accessories Stocked for Immediate Delivery
Same Day Shipping on Orders Placed by 5pm ET
Electronic Test Equipment Accessories From:
Visit the Test-Um Accessory Store Click here to enter
Test-Um Inc. is a world-class designer and manufacturer of top-quality products for Testing, Talking and Tracing in the datacom, telecom and alarm/security fields.
---