OX400 Low Oxygen Concentration analyzer
Product Announcement from Yokogawa Corporation of America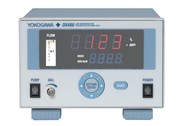 Yokogawa model OX400 Low Oxygen Concentration analyzer is a highly accurate and reliable low-concentration zirconia oxygen analyzer that is capable of measuring a wide range of concentrations, from 0-10 ppm up to 0-100 vol%O2.
A proprietary new thin-film deposition technology was used in the zirconia sensor that creates a molecular bond between the zirconia element and the platinum layer. This prevents separation, enables a reduction in sensor size and ensures a high-speed response and long life.
The OX400 can be used to control and monitor various semiconductor applications, solder reflow furnace monitoring, air separation purity monitoring, glove box monitoring and many other processes.
Long Life and High-Speed Response

Due to the use of Yokogawa's proprietary new thin-film deposition technology, the zirconia sensor has three times the lifespan
A cylindrical sensor design facilitates the replacement of measurement gases, thereby helping to assure a high-speed response

High Performance and High Reliability

Superior repeatability and linearity even at low oxygen concentrations.
Either pump or aspirator sampling can be selected, depending on the application

Built-in functions and a variety of self-diagnostic functions

Available with multi selector, auto range, partial range, and pump on/off functions
A variety of self-diagnosis functions are provided that detects malfunctions such as heater temperature error, temperature sensor burnout, and sensor resistance value error

Superior Maintainability

The sensor can be replaced on-site
Compact and lightweight for easy installation
For General Product Specifications
You have successfully added from to your part list.
---