MQ60-140 Ball Screw Units
Product Announcement from Zagar Incorporated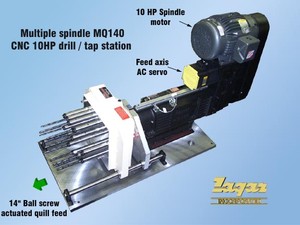 The MQ-60, 120, & 140 units are ball screw actuated variable feed, quill type machining units. They are ideally suited for single or multiple spindle applications on all types of metal removal machinery. The unique arrangement of few moving parts in a compact assembly provides for versatility of application and minimal maintenance in operation. Each unit features a large 4.250" dia. hardened and ground quill which carries the spindle assembly and the ball screw nut. The excellent quill bearing area, combined with the ball screw centerline thrust design, provide for extreme stability throughout the unit stroke. A CNC servo motor drives the ball screw and controls all functions of rapid traverse and feed.
The flexibility of this drive is evidenced by the many cycles that can be easily obtained with the available control options , such as multi-stage feed, back feed, pulse feed (chip breaking), gap jumping, peck feed, and rigid CNC tapping thru synchronization of the feed and spindle motors. Standard, quick-disconnect proximity switches control the home position and over-travel limits. Internal bumper cushions mechanically protect the unit from over travel damage in both directions.
Standard Controls
Single axis CNC control components or pre-engineered systems are available from 5 to 10 HP for drill stations. Dual axis, CNC control components or complete systems are available for tapping stations. The dual axis controls apply to both drilling and tapping operations or combination drilling and tapping cycles for use with combination drill/taps (draps). Standard CNC rigid tap cycles include left or right hand threads and inch or metric pitch. All cycles are stored as sub-routines in system memory and recalled thru PLC or HMI interface (multi-tasking).
COMPANY HISTORY
Zagar Inc. is a Machine Tool Builder specializing in the mass production and/or the qualification of holes. With our crank style design multiple spindle drilling and tapping head Zagar can design machinery with more rotating cutting tools in a smaller area. Our machines are used in the automotive, aerospace, electrical, electronic, propulsion, off-road construction equipment, hydraulic, pneumatic and general job shop industries to name only a few.
We have produced or qualified holes in most ferrous or non-ferrous materials. The design of our machinery has resulted in the development of stand-alone modular component product lines. These product lines are Multiple Spindle Drill/Tap Heads; air, hydraulic, cam, servo driven feed units and air, hydraulic or mechanical Workholding fixtures. Controls for these machines range from the conventional electric circuitry to fully integrated solid state as needed for PLC compatibility. Assistance and support is also available for your in house needs.
History / Location: Since 1937 Zagar has offered machinery and assistance to customers throughout the world. Our plant is located at 24000 Lakeland Blvd. in Euclid, Ohio. Euclid is a suburb of Cleveland, Ohio in the United States of America. It is between the East 222nd St. and Babbitt Rd. exits on the south marginal of route I-90. The two buildings total 54,000 square feet of manufacturing facility.
24000 Lakeland Boulevard • Cleveland, Ohio 44132 • (216) 731-0500 • Fax: (216) 731-8591 • Email sales@zagarinc.com
---